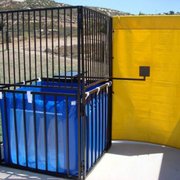 Dunk Tank
Our traditional Dunk Tank adds a ton of laughs and excitement to any type of event. Kids love to see their school principal, church leader or coach take a splash. Holds approximately 450 gallons of water.
QUALITY SPACEWALKS AND WATERSLIDES AT AFFORDABLE RATES!!!
All day spacewalk and water slide rentals are delivered between 7am-12pm. Pick up starts at 7pm. Note: We offer overnight stay for a great price!!
DND Inflatables, spacewalk and water slide rentals serving the New Orleans and surrounding areas.
Copyright 2010, DND Inflatables, LLC spacewalk and waterslide rentals in New Orleans(tm) 5044527691